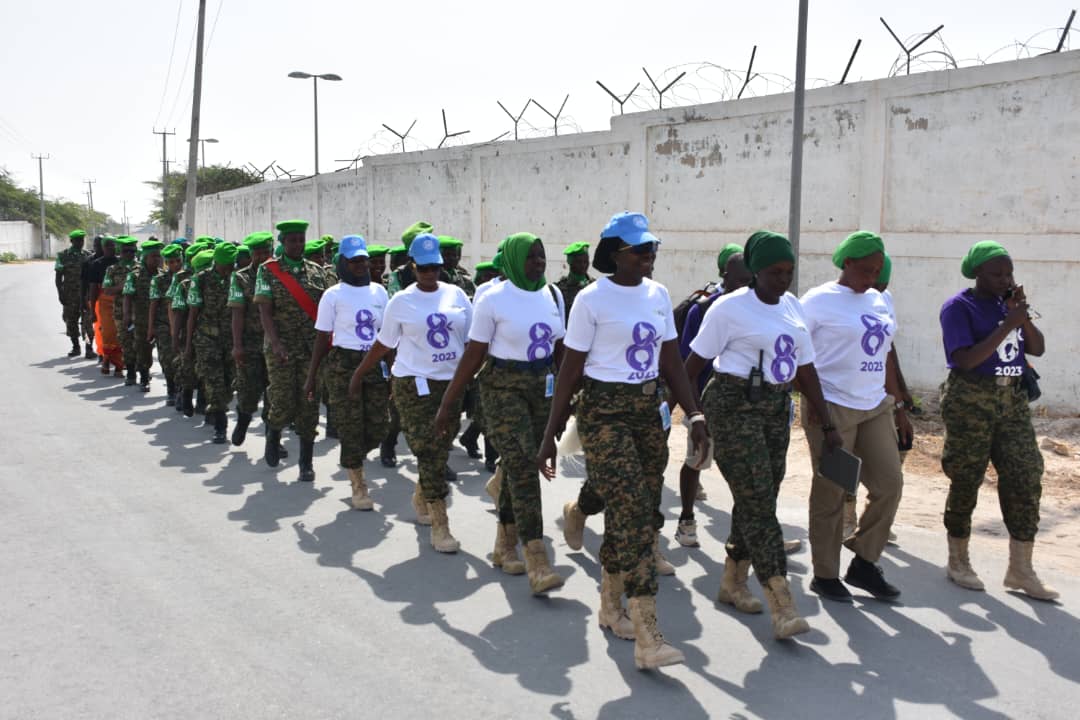 Uganda People's Defence Forces (UPDF) female soldiers serving under African Union Transition Mission in Somalia (ATMIS) have joined the rest of the World to commemorate International Women's Day under the theme; "Gender equality through Peace Keeping."
Officiating at the function that was held at the ATMIS Recreation Centre in Mogadishu, the ATMIS Police Commissioner Hillary Sao Kanu who represented the Special Representative of the Chairperson of African Union (SRCC) congratulate female combatants in ATMIS upon reaching the International Women's Day.
She said that Africa can't attain its agenda for peace without the involvement of women. "Women play an important role and need to be involved, Africa can't attain its agenda for peace without the involvement of women, that's why more women have been deployed in ATMIS," said Sao Kanu.
Police Commissioner Sao Kanu applauded the African Union for embracing and supporting women's empowerment and added that ATMIS is committed to ending gender-based violence. She equally applauded the Somali government for embracing gender equality by recruiting women into the army and appointing them to various government offices.
She commended the women serving in ATMIS for enhancing the spirit of Pan-Africanism. "These are mothers who have moved all the way from their countries, left their beloved families to ensure peace in Somalia, this is a manifestation of Pan-Africanism," Madam Sao Kanu said.
Col Bassie Sissay Abdul Lawrence who represented the ATMIS Force commander said, "this is another opportunity when the world converges to commemorate International Women's Day, we continue to advance gender equality in our area of operation by protecting women and girls against all forms of violence."
Present at the function were, other female soldiers serving under ATMIS military and police components from Troop Contributing Countries, Civilian components from the Somali government and United Nations, staff officers from ATMIS force headquarters, and Uganda contingent headquarters among others.